We take a break from our regularly scheduled #writecampaign entries to look at a brand new contest. Because I must do ALL OF THEM. The new writing challenge I've embarked upon is hosted by Damyanti, J.C. Martin, Lisa Vooght, and Stuart Nager (some of whom have commented in this blog earlier). It's name is the Rule of Three Blogfest. My new fun with fiction adventure takes place in the shared story town of Renaissance. Perhaps an introduction is in order. It even has a cool logo, just like the other campaign.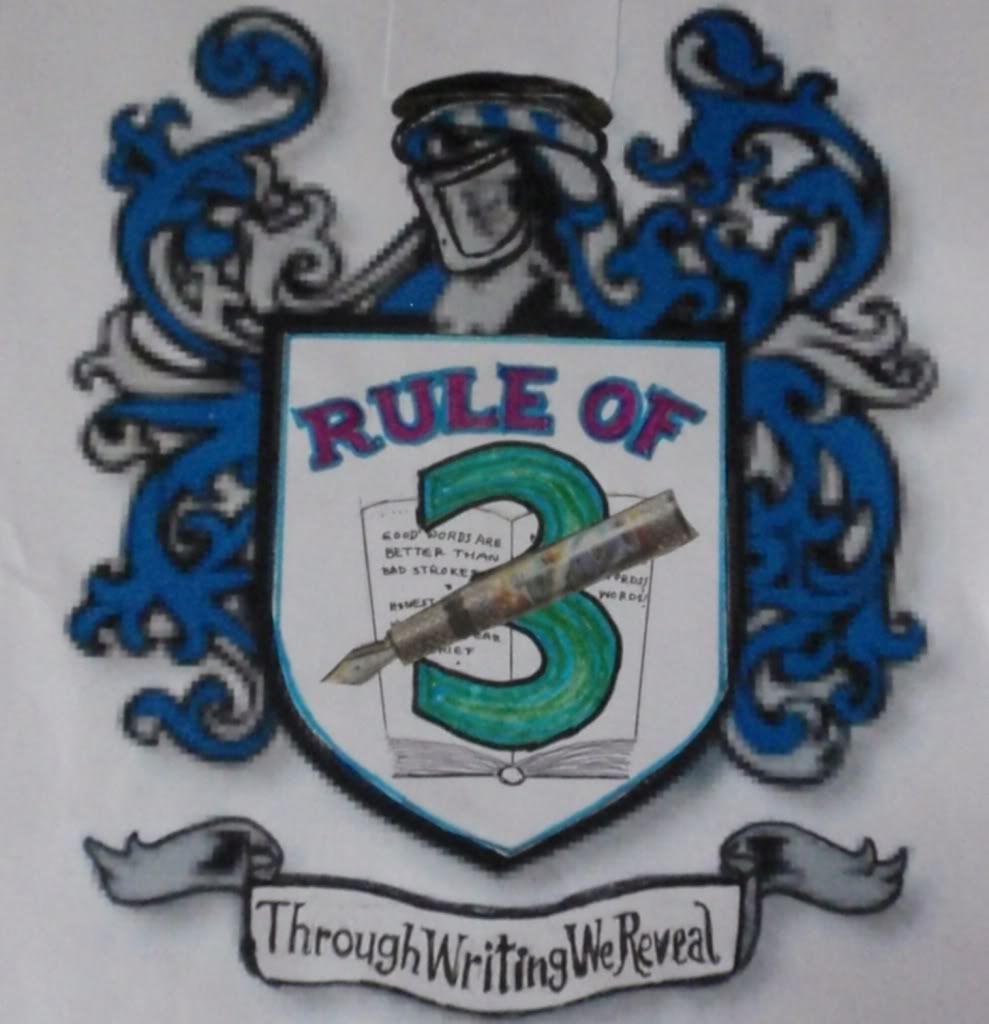 For this contest, I'll be posting a new entry every Wednesday in October (though I'm getting a head start on this one) related to certain prompts. The biggest difference between the #REN3 contest and the #writecampaign is that all of the #REN3 entries are related. You'll be hearing more about the characters below for the entirety of the contest, and every entry from all contestants will be taking place in the same city (though not necessarily in the same time or with the same "rules"). I'm stoked. I've been on a fantasy kick lately, so here goes.
We had a choice of prompts this week, so I picked "someone might fall in love." Of course, I could never take the easy way out and just write a love story. That's too easy to be interesting. Good stories always hurt.
The word count limit was 600, and because I can't help myself – I pushed it right to the limit. Incidentally, I'm not counting the title in that. Hope that's okay. Without further ado, welcome to my little corner or Renaissance
---
Last Call
Dant checked the clock behind the bar. Last call. It was about damn time.
"Make it quick, gents. One more round and the law says you're drunk enough," he said.
The ratty assembly of miners grumbled and swore. A man with a soot-covered face told Dant in no uncertain terms where he could stick the clock, along with his empty mug and half his boot. Dant laughed. It was one of the more creative threats he'd heard this week. Everyone got one last pint of ale. People loved his Renaissance Brown – he couldn't brew it fast enough. Travellers came all the way to the North End to get a sip.
"Remi," he called. Might as well get started cleaning up the back bar early. Everyone was out front tonight. If he was lucky, he could get to sleep before the sun started poking its head where it didn't belong. He looked up. Where in the seven hells was Remi?
"Remi," he called again. Still no answer. Dant took a wary look at his patrons. None looked like much trouble tonight. The worst one might try would be to steal a refill, so Dant took off the tap handles.
"Don't get any ideas, gents," he said and ducked under the bar. He slid by two men who looked like corpses that learned to drink. He usually put Remi on the back bar. Only half his patrons even knew about it, and it was best to keep Remi in lower-profile positions.
Dant hurried down the hall and into the empty back bar. He stepped in something wet. Remi was passed out at a table by the door. Vomit spilled out from under his head and onto the floor.
"Gods damn it Remi!"
Remi jerked upright, his blue eyes wide. The left side of his stubble was coated, as was his hair.
"What? What?" He looked back and forth until he saw Dant. His eyes came into focus and he looked down. "Oh, man. I'm sorry. I'll get this." Remi tried to push himself up. His hand slipped on the side of the table he had generously lubricated and he fell back onto the bench.
"I'll get the mop," Dant said. So much for getting to bed early tonight.
Remi pushed himself back into a sitting position. "She's gettin' married, man."
So that's what this was about. Jana. "I know."
"You knew about it?"
"She told me," Dant said.
"How could you not—"
"I was going to tell you tomorrow because you had the day off. Had. I was hoping to avoid something like this."
Remi deflated at Dant's barb. "I'm sorry man."
Dant grabbed a bar towel and threw it to Remi. "Just dry yourself off. You got it in your hair. Get a pint of water and I'll get the mop as soon as I clear out the customers."
"You really think she's gonna marry that guy?"
Dant looked at his friend. He'd been feeding him the same half-truth for years. He hated getting Remi's hopes up when he couldn't tell him the whole answer.
"No, I don't," Dant said.
Remi's eyebrows relaxed. "Really?"
"Really."
Dant headed back to the front bar. Only three miners remained, nursing their dwindling lagers for all they were worth. No trouble tonight. Well, none but Remi. For once, though, Dant didn't blame him. He understood the pain all too well. But Dant knew something Remi didn't. The oracle had been quite clear: Dant was destined to be the most important man in Jana's life. He just didn't know how to break it to Remi.
---