Tag Archives:
contest
I'm officially entered in the #GUTGAA (Gearing up to get an agent) pitch contest today. You can see my entry here at Jaye Robin Brown's blog.  It was probably the most nerve-wracking 240 words I've ever written, but I'm crossing my fingers and hoping for the best. For the very first time, a literary agent (several, actually) is going to read my query and decide whether or not she wants to see more. It's not like the query is supposed to be exclusively on one site, so I'll paste my entry here.
---
TITLE: City of Magi
Genre: Industrial-Era Fantasy (Adult)
Word Count: 272,888
QUERY:
When Astosen's greatest military hero is found dead of an apparent heart attack, only Grayson Kearney, intelligence peddler, magus, and smuggler extraordinaire, suspects there is more than meets the eye. He enlists the help of Zia Locke, the hero's daughter and a Magi Knight in the Astosenian military, and together they connect her father's murder to a monarchist plot to overthrow Astosen's fledgling democracy.
The enemies from within engage the help of continental superpower Valania, who is eager to weaken its former colony. Astosen's independence was won with the discovery and production of the magi stones, a portable form of magic that even non-magi can use. Valania dreams of restoring its empire's reach by seizing control of Astosen and its monopoly on magi stone production.
Grayson guides Zia through the depths of the capital city Dein Astos's underworld to discover the truth, bring her father's killers to justice, and fight to save the country. Dein Astos may not be perfect, but it's the capital of the free world and the city that allowed Grayson to grow from an abandoned orphan into the architect of an underground empire. It's a city unaware of his influence and guardianship, and one that only he has the power to defend.
CITY OF MAGI is a work of fantasy set in a magically-powered industrial society. It is the beginning of a saga spanning the length of the world war for control of the magi stones.
---
There are a few parts that I'm more nervous about than others. In particular, the beginning data that the reviewer begins with. I got more than a few comments about my word count in the "pitch polish" part of GUTGAA, some positive and some not. There is a school of thought out there that a 272,000-word book simply cannot be sold.
I get it. CITY OF MAGI is a pretty long book, and quite a few people told me to cut it in half. This could theoretically be done. There is a decent break point at about 150,000 words in, and to make the second half into a full book, it would likely take about an extra ten or twenty thousand words to encapsulate, so CITY OF MAGI very easily could be the first two books of a series.
Perhaps this is the whiney artist in me, but I just hate that idea. This whole book played as one story, and I'm putting it out there now because it really, really works. I've had several reviewers, some who took it a few chapters at a time and some who read it in its entirety, and the reviews have been almost embarrassingly positive. This is my best work, and it was written as one story. It works best that way. I paced this book very deliberately to ratchet up the action the further you got into it. The beginning isn't slow at all, but it is more character and interaction based than Michael Bay-style holy-balls-did-that-just-explode action adventure. Which isn't to say that things don't explode in that first 150,000 pages. If I promise you nothing else about this book, it is that stuff blows up. I swear it.
In any case, it's not the 'splosions that get to me. It's the arc and the closure of the story that I would most morn if the book were split into two. (Side note to agents and publishers: I will totally split this book into two if you want me to. I'll just pout privately and then do as awesome a job wrapping the individual pieces as I did putting together the whole thing.)
The other part of the pitch I'm most nervous about is the tiniest part at the end. As the clock ticked down to submission time, I hemmed and hawed over whether or not to include one little word: the "It's" in the last sentence: "It's a city unaware of his influence and guardianship, and one that only he has the power to defend."
I know what you're thinking—without that word, the sentence isn't a sentence. And the thing is… I really wish I had left it a fragment. I had it as a fragment for about a half hour prior to the submission, and then I got a case of nerves. What if the agents think I'm just a fragmenting fiend who doesn't understand sentence structure? I mean, this is a contest for unpublished authors, so I'm not exactly George R. R. Martin, sitting on infinite amounts of writing credibility, able to twist the language and dare you to tell me I'm wrong.
No, I'm not a literary legend, but I still wish I had left it a fragment. The more I read the whole query out loud, the more I wish I hadn't gotten nervous. I'd take that one word back if I could. Otherwise I'm pretty happy with it. Sure, it's not a sentence that way, but the fragment has more power than the completed sentence ever could. The fragment is more true to my style overall.
Alas. I'm still happy with the entry, though. CITY OF MAGI is a long, awesome book. I had to distill the essentials of the plot, the magic of the world, all of the fantasy, and still gain the reader's interest in just 240 words. There wasn't actually a word limit, but your pitch has a very limited welcome on an agent's desk, desktop, or iPad. You can see the original version of my pitch here (or just keep reading).
---
Grayson Kearney is the head of a smuggling enterprise in the capitol of the free world, Dein Astos. When a military hero is murdered, Grayson uncovers a conspiracy that threatens the stability of the nation. That murdered hero is the father of Zia Locke, a promising young officer in the Astosenian army. With her help, Grayson ties together the threads of a plot to overthrow Astosen's fledgling democracy and restore the monarchy. They find that conspiring monarchists aren't shy about reaching for unsavory sources of aid, even if it endangers the republic. This includes reaching out to the Valanian military, who hope to retake their former territory amid the turmoil.
Grayson isn't Dein Astos's most upstanding citizen, but he's not about to let the city he loves fall back under the thumb of a despotic superpower or a power-hungry tyrant. D.A. may not be perfect, but it's the capital of the free world and the one place where an abandoned orphan like Grayson can rise to the top.
City of Magi is a work of fantasy set in a magically-powered industrial society, and can be the start of a series.
---
The original version (besides being 50 words shorter) doesn't have a hook at the beginning. You know that Grayson is a smuggler, but I gave that to you in perhaps the most boring way possible. "When a military hero is murdered…" is the action. That should lead (and in my agent-readable version, it did). The old version also separates the introduction of Grayson from some of the more interesting points about him without a decent expository reason to do so. This was also corrected in the second version.
The most thought-provoking feedback I got was that the fantastical elements of the story didn't come through in my original pitch. My first reaction was "How am I supposed to explain the system of magic for my world in a pitch letter?" The answer took me longer to come to than it should have. I didn't need to explain it. I just needed to put a fantastical hook in there. Much like the action hook at the beginning of the revised version, there needed to be something to promise the reader a hint of fantasy more interesting than "There are knights and stuff, and, uh… you know… magic. Yeah, that's the ticket." I did that with the inclusion of one item very central to the story: magi stones. My only explanation of the system of magic in CITY OF MAGI was to mention that magi stones are portable, universal magic holders. And that's enough. That's all that really can be in a brief, attention-getting letter.
Of course, I say this after only having revised my original pitch and submitted to a contest, so perhaps I'm marvelously wrong and one of the judges would have preferred the original, but I think I've put forward the stronger impression of my book with the revision. Thanks again to Deana Barnhart for putting #GUTGAA together. It has inspired me to stop just creating more stories and get back out into the business and social side of writing.
There is, of course, one more part to the contest, and that is to include the first 150 words of the book. I'd be an awful blog host exclude just that part, so without further ado, the opening of CITY OF MAGI:

---
The funeral march of Alexander Locke began at dusk. Grayson Kearney watched the crowd of politicians, family friends, comrades-in-arms, and reporters walk slowly through the spidery shadows of the weeping willows lining their path. For them, it was a tragic loss: Alexander Locke, great Magi Knight, hero of the republic, leader of men, felled by a heart attack at only fifty-five years of age. Grayson shook his head at their simple, ignorant grief. They should have been outraged. Locke had been murdered.
Hundreds long, the procession wound its way up the cliffs overlooking the Western Sound, through the gates of the National Cemetery, and came to a close at the end of the Trail of Remembrance. Grayson stood solemnly across the cemetery at the grave of a woman he never knew, watching the mostly black-clad crowd with occasional flashes of purple cloaks as they fanned out around the fresh grave. 
---
Thanks for reading, and stay tuned!
We take a break from our regularly scheduled #writecampaign entries to look at a brand new contest. Because I must do ALL OF THEM. The new writing challenge I've embarked upon is hosted by Damyanti, J.C. Martin, Lisa Vooght, and Stuart Nager (some of whom have commented in this blog earlier). It's name is the Rule of Three Blogfest. My new fun with fiction adventure takes place in the shared story town of Renaissance. Perhaps an introduction is in order. It even has a cool logo, just like the other campaign.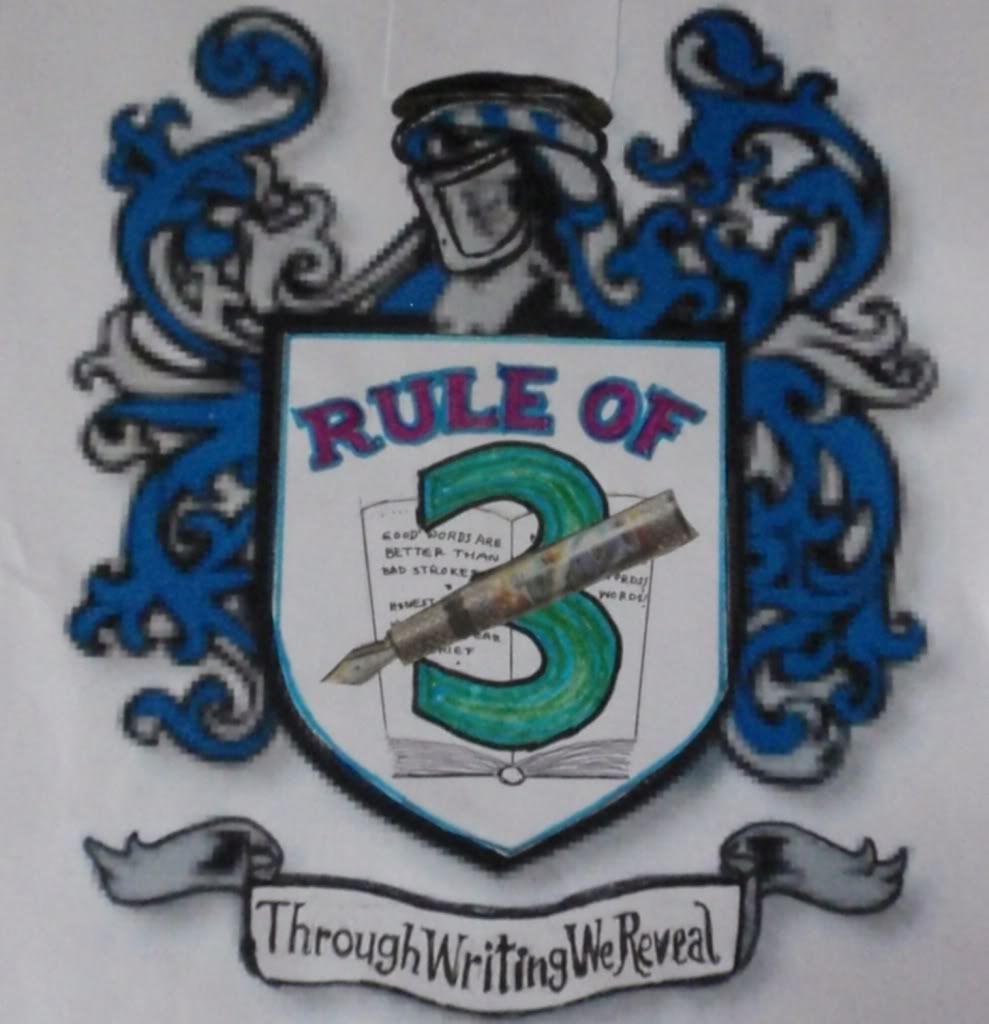 For this contest, I'll be posting a new entry every Wednesday in October (though I'm getting a head start on this one) related to certain prompts. The biggest difference between the #REN3 contest and the #writecampaign is that all of the #REN3 entries are related. You'll be hearing more about the characters below for the entirety of the contest, and every entry from all contestants will be taking place in the same city (though not necessarily in the same time or with the same "rules"). I'm stoked. I've been on a fantasy kick lately, so here goes.
We had a choice of prompts this week, so I picked "someone might fall in love." Of course, I could never take the easy way out and just write a love story. That's too easy to be interesting. Good stories always hurt.
The word count limit was 600, and because I can't help myself – I pushed it right to the limit. Incidentally, I'm not counting the title in that. Hope that's okay. Without further ado, welcome to my little corner or Renaissance
---
Last Call
Dant checked the clock behind the bar. Last call. It was about damn time.
"Make it quick, gents. One more round and the law says you're drunk enough," he said.
The ratty assembly of miners grumbled and swore. A man with a soot-covered face told Dant in no uncertain terms where he could stick the clock, along with his empty mug and half his boot. Dant laughed. It was one of the more creative threats he'd heard this week. Everyone got one last pint of ale. People loved his Renaissance Brown – he couldn't brew it fast enough. Travellers came all the way to the North End to get a sip.
"Remi," he called. Might as well get started cleaning up the back bar early. Everyone was out front tonight. If he was lucky, he could get to sleep before the sun started poking its head where it didn't belong. He looked up. Where in the seven hells was Remi?
"Remi," he called again. Still no answer. Dant took a wary look at his patrons. None looked like much trouble tonight. The worst one might try would be to steal a refill, so Dant took off the tap handles.
"Don't get any ideas, gents," he said and ducked under the bar. He slid by two men who looked like corpses that learned to drink. He usually put Remi on the back bar. Only half his patrons even knew about it, and it was best to keep Remi in lower-profile positions.
Dant hurried down the hall and into the empty back bar. He stepped in something wet. Remi was passed out at a table by the door. Vomit spilled out from under his head and onto the floor.
"Gods damn it Remi!"
Remi jerked upright, his blue eyes wide. The left side of his stubble was coated, as was his hair.
"What? What?" He looked back and forth until he saw Dant. His eyes came into focus and he looked down. "Oh, man. I'm sorry. I'll get this." Remi tried to push himself up. His hand slipped on the side of the table he had generously lubricated and he fell back onto the bench.
"I'll get the mop," Dant said. So much for getting to bed early tonight.
Remi pushed himself back into a sitting position. "She's gettin' married, man."
So that's what this was about. Jana. "I know."
"You knew about it?"
"She told me," Dant said.
"How could you not—"
"I was going to tell you tomorrow because you had the day off. Had. I was hoping to avoid something like this."
Remi deflated at Dant's barb. "I'm sorry man."
Dant grabbed a bar towel and threw it to Remi. "Just dry yourself off. You got it in your hair. Get a pint of water and I'll get the mop as soon as I clear out the customers."
"You really think she's gonna marry that guy?"
Dant looked at his friend. He'd been feeding him the same half-truth for years. He hated getting Remi's hopes up when he couldn't tell him the whole answer.
"No, I don't," Dant said.
Remi's eyebrows relaxed. "Really?"
"Really."
Dant headed back to the front bar. Only three miners remained, nursing their dwindling lagers for all they were worth. No trouble tonight. Well, none but Remi. For once, though, Dant didn't blame him. He understood the pain all too well. But Dant knew something Remi didn't. The oracle had been quite clear: Dant was destined to be the most important man in Jana's life. He just didn't know how to break it to Remi.
---